At KCA International we love what we do! Our employees work with determination and enthusiasm every day to fulfill our commitment to our Clients, and we are motivated by the excellent results we achieve by partnering with them.
We are leaders in Project and Facilities Management in Mexico.
a) WHO WE ARE LOOKING FOR…
The solutions that we implement for our clients emanate from the talent of our staff. That's why we look for ethical, creative, and results-oriented people.
If you are interested in working with top quality standards and in a team setting, then we are looking for you! We are a great place to start your professional career.
There are no pre-requisite titles or work experience to work at KCA. We consider new-graduates from undergraduate or Technical Degrees as well as experienced construction or maintenance workers alike.
b) WHY WORK AT KCA…
At KCA, we work to implement solutions for our clients. We materialize our achievements and take pride in our work. For over 12 years, KCA has been innovating and transforming our industry sector as no other company has done. We develop values, talent, leadership, and teamwork, and that is why we invite you to join us.
Our company culture is focused on accident prevention and respect for the environment. We closely follow international safety and prevention regulations, while putting sustainable processes to practice. We take care of our team and our clients, along with their real estate, facilities and equipment.
We provide on-going training programs in new technology and construction practices as well as personal development.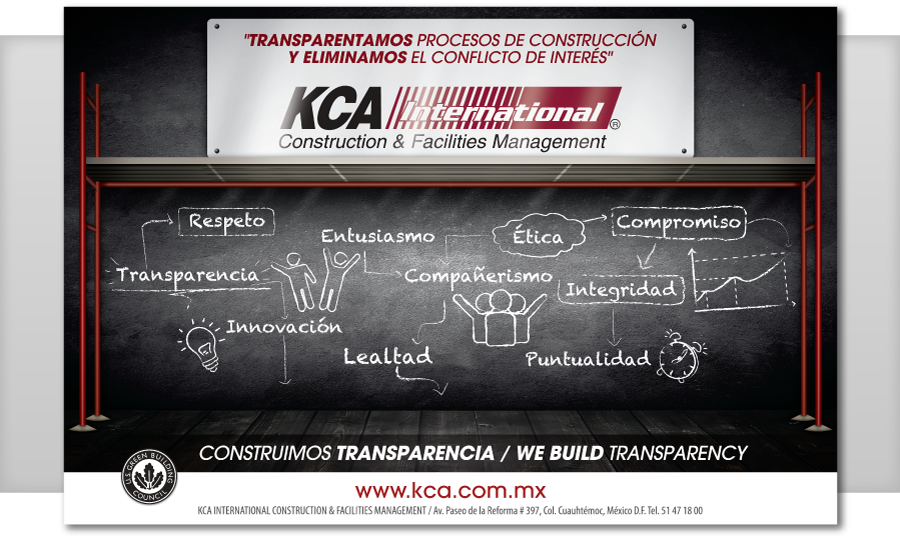 c) CONTACT US…
If you care about the environment, enjoy challenging yourself, and want to raise your professional skills to a new level, then send your resume to the following email address: cvitae@kca.com.mx